My public engagement activities seek to involve interaction with a diverse and broad audience through two-way engagement. The aim is to disseminating results of my research while simultaneously having my research shaped through new and alternative perspectives.
Chinese Paper Money Workshop:
at the British Museum
In May 2019, I assisted Dr. Helen Wang, Curator of East Asian Coins, Medals, and Money at the British Museum organise a closed workshop on Chinese paper money.
This was a

specialist workshop looking at current research from the 1850s to the present and brought together an array of experts, including scholars, curators, and bankers.
Programme and abstracts 

here

.
Visualising Asia:
Deciphering 'Otherness' in Visual and Material Cultures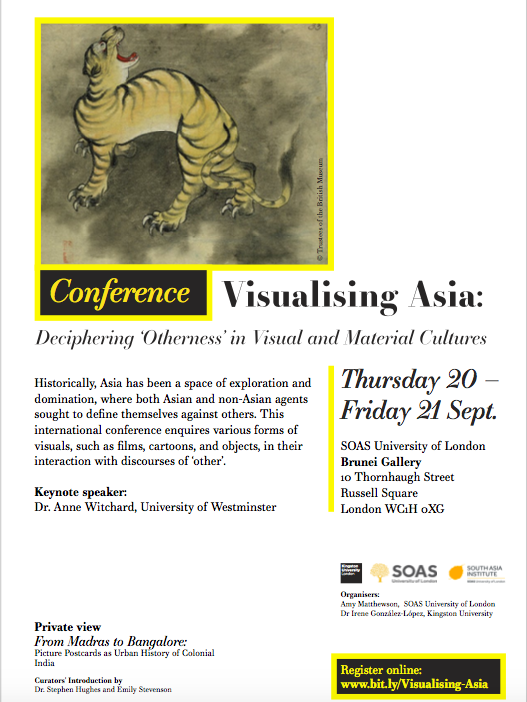 In September 2018, I co-organised a conference with Dr. Irene González-López (Kingston University).
The conference invited discussions on the differing ways 'otherness' has been used in both Asian and non-Asian societies through visuals. The aim was to bring together an array of visualities from across various disciplines in order to reflect on the importance of visuals in knowledge production and circulation within and across cultures and societies.
Event information here.
Programme here.
Visual Protest:
Art and Militancy in the Suffrage Campaign
As part of Birkbeck Arts Week, I co-organised a panel with Dr. Flore Janssen (Birkbeck, University of London). Our speakers focused discussions around militant suffragettes' public demonstrations, which often deployed the visual arts. 
Exploring their campaigns, Gillian Murphy (Women's Library, LSE) introduced the Artists' Suffrage League and banners from their archive, while Monica Walker (Old Operating Theatre Museum) investigated links between art and militancy through the defacing of the Rokeby Venus.
Arts Week 2018 programme here.
Picturing Militancy in the Digital Age:
Wikipedia Workshop and Edit-a-thon
In March 2018, I co-organised an edit-a-thon at the School of Arts, Birkbeck, University of London.
It was run as a drop-in session, open to all, with introductory talks and workshop tutors available in person as well as online via Twitter and email. This was in connection with the upcoming exhibition 'Deeds Not Words: Who Got the Vote in 1918?', based at SOAS, University of London and the Cartoon Museum.
More information about the event

here.
Deeds Not Words: Who Got the Vote in 1918?
Cartooning Women and the Vote in 'Punch' Exhibition
In 2018, I co-organised an exhibition with Dr. Flore Janssen (Birkbeck, University of London) to coincide with celebrations marking Vote100 in the United Kingdom.
The exhibition was

displayed at the Wolfson Gallery in SOAS University Library and a video version was played at The Cartoon Museum, now located in Fitzrovia, London.

We were approached by Susan Croft and Irene Cockroft of Suffrage Arts, who incorporated our exhibition boards into 'A Stone's Throw from Westminster', their wider exhibition exploring women's activism in the Camden, Bloomsbury, and Holborn areas, which was on display at the Camden Local Studies and Archives Centre at the Holborn Library.
Visualising China:
Stereotypes, Myth-Making, and Cross-cultural Strategies, 1840-1940
In 2017, I co-organised a roundtable with Dr. Wendy Gan (University of Hong Kong) for the Association of Asian Studies annual conference. 
Using a variety of visual media from the popular press, personal photographic archives, and travel writing, our roundtable examines the representation of China and the Chinese by authors from America, Britain, Brazil, and from the extraterritorial treaty ports of Fuzhou and Shanghai. We were concerned with the circulation of texts and images of China, the interplay of fact and fantasy, and the ideological dimensions of cross-cultural representations. 
Panel discussants: Wendy Gan (University of Hong Kong) Ellen Sebring (Duke University) Rosario Huber (Trinity College, Connecticut) Sabrina Fairchild (University of Bristol) Amy Matthewson (School of Oriental and African Studies, University of London)
Glass Lantern Slides of China:
at the Royal Asiatic Society, London
The Royal Asiatic Society (RAS) of London houses a collection of 200 glass lantern slides of China depicting a diverse range of topics such as architectural buildings, topographical features, famous historical figures as well as a variety of daily activities. My time with this collection was spent cataloguing and digitising the slides.
To read my blog post on the slides, visit Royal Asiatic Society online,
here
. To read the subsequent article, see details on publication page, found
here
.
To view the slides, see "China Glass Slides" on the Royal Asiatic Society Photographic Collection website, found here.